Andiamo KHF is the second offspring of Felicia 22, a premium import Holsteiner mare from Germany. Felicia's breeding includes Landgraf, Lady Killer and Lord. She had a wonderful career doing Grand Prix jumping showing in Colorado and also in Calgary. My daughter, Laura Moore, showed her, and with their combined incredible talent was ranked 13th in the Western section of the country in Junior jumpers.
Andiamo's initial career was in jumpers (at home jumping 5 foot fences) and dressage and he did very well at the shows ridden by Clair Dorotik. Since then his subsequent gelding at age 5 years old and colic surgery since his colic surgery three years ago have slowed him down, but this summer he is headed back to the show ring with Mariano Bedoya and Luciana Solari riding him.
We have frozen semen available. Please contact us if you are interested.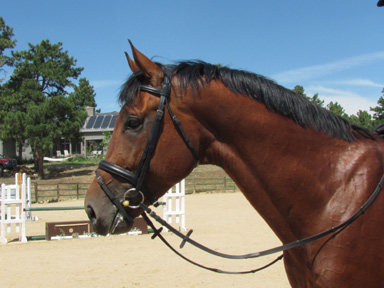 Savannah is a 6 year old Holsteiner jumper mare, Granddaughter of South Pacific; She is getting her German Verband Holsteiner registration completed this Spring. She will be showing in the jumpers in Thermal between 2/24 and 3/14/20. Come visit at Mariano Bedoya Stable. She is the gray mare shown below.
Moritz is a 2010 Selle Francais gelding, import, proven at 1.2M with plenty of scope. He is a dream to ride at any gait and is spook free! He is a super confidence builder and loves his job. He will also do excellent in the Equitation ring. Junior riders! He is your dream boat! He is the Chestnut gelding below.